For those who don't know… on July 24th 2014, Google rolled out an update to its local search algorithm.
This major update, known as the "Google Pigeon Update", primarily impacts local search results rankings and we were warned that some local businesses may notice an increase or decrease in web site referrals, leads and business from the change.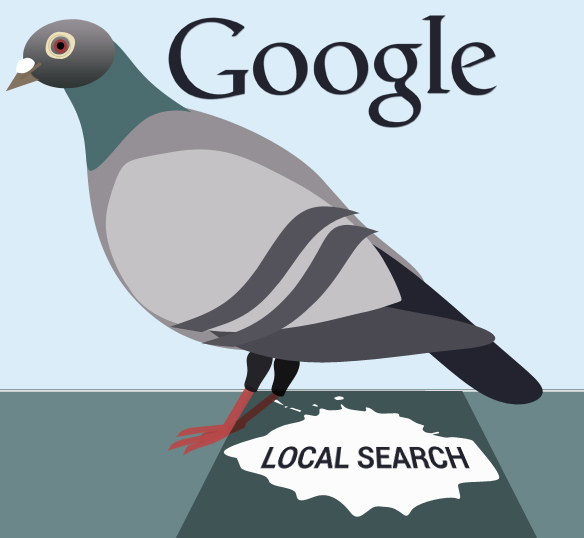 We've been hearing a lot of buzz about it in the search engine marketing communities, but only time would tell how big an impact it would have on our client's site.
Now, a little over a month since Google announced the change, we can see that the Pigeon impact was in some cases, pretty severe.
The good news is, not everyone was impacted by the Pigeon update.
The bad news is, that if you WERE impacted by the Pigeon Update, you were likely hit hard.
How the Google Pigeon Update Crippled One Site's Search Traffic Overnight
Out of the 40 or so accounts under my control in Google Analytics, most of them do not seem to have been affected much by the Google Pigeon Update. In a few cases however, the data is showing an alarming decrease in organic and referral traffic since the update rolled out.
Out of all our clients, the account that suffered the most is a B2B technology company that previously was received a good amount of organic traffic per month.
Google Analytics shows a dramatic drop in all website traffic on July 24, a decrease of approximately 66% in sessions. The graph below clearly shows the impact that algorithm update had on the site traffic.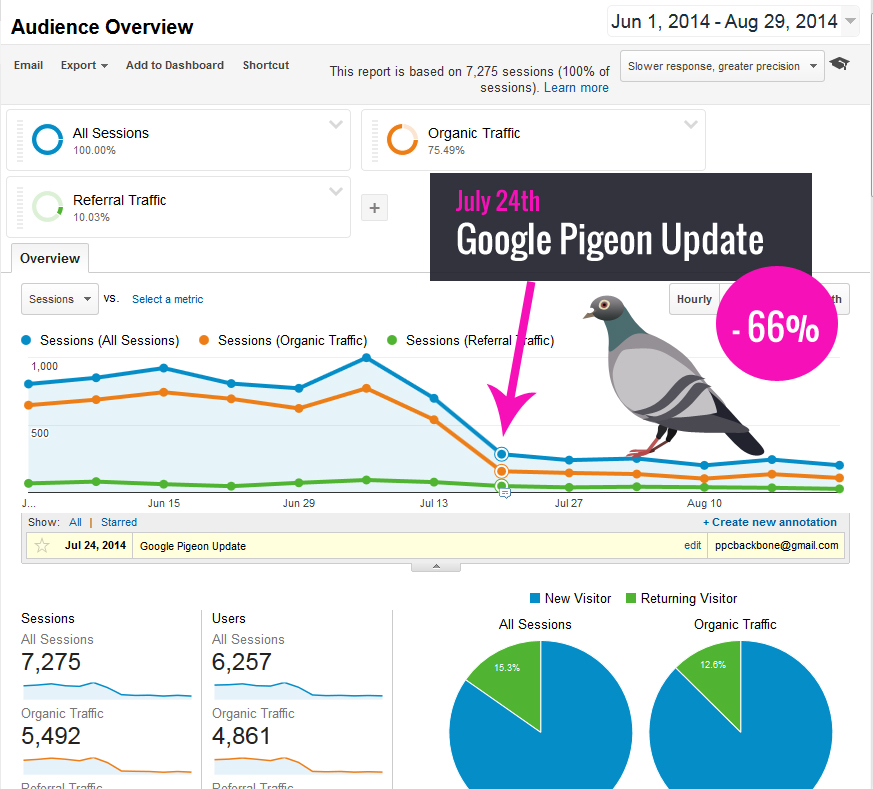 The devastation Pigeon had on our client's organic search traffic clearly visible in Webmaster Tools.
When we look at the Search Queries over the time period of Jul 1 2014 – August 29, 2014, we get further insight into how great an impact the update had on the client's search traffic in particular.
Before the Pigeon Update, the client was getting between 1000-3000 impressions a day. After the Google Pigeon Update, the number of impressions plummeted to less than 200 impressions a day.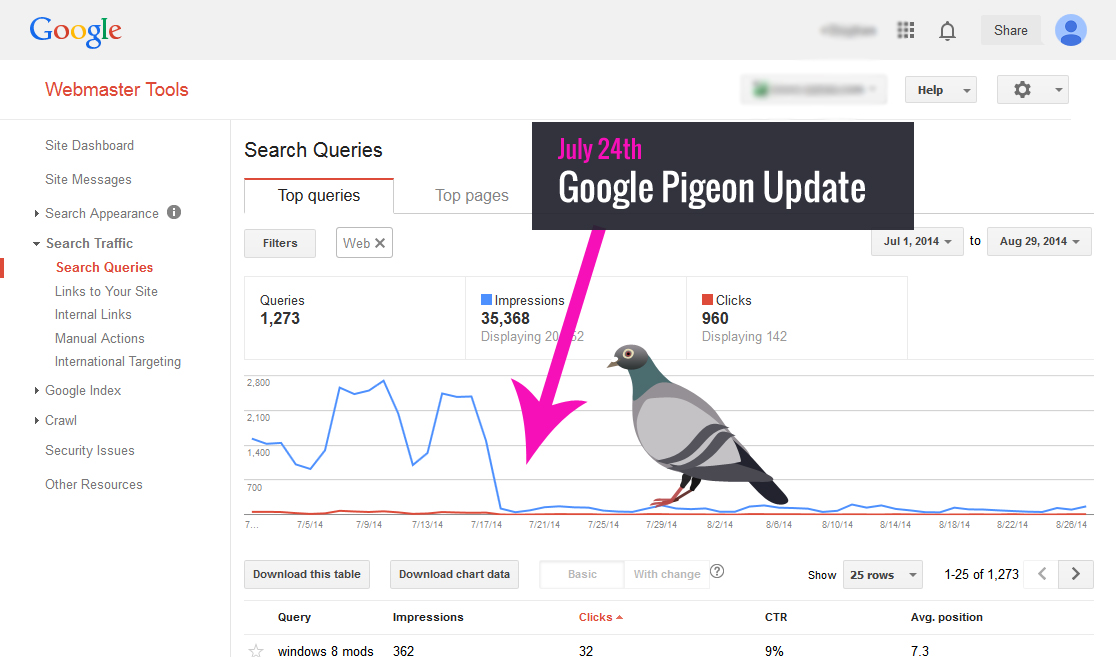 The data paints a clear picture of just how much an algorithm update, in this case the Pigeon Update, can have a HUGE impact on search traffic.
This is only one client, and one example of how Google's algorithm updates have affected web traffic. If you want to know if your site suffered after the change, check your Analytics data and compare how much traffic changed after July 24, 2014.
It is important to stay up to date on major changes in the search engine world, and even more important to annotate major events in your Google Analytics so you can attribute the cause to spike or drops when you notice changes in traffic trends.
Please share your comments #pigeonupdate and tell us how much your site was impacted by the Google pigeon update.
Next Steps: 
Sign up to receive 100 top predictions and trends for 2015 for an all-star team of industry thought leaders.
/wp-content/uploads/2020/10/web-logo-backbone.svg
0
0
Emily Saylor
/wp-content/uploads/2020/10/web-logo-backbone.svg
Emily Saylor
2014-09-01 08:55:50
2014-09-01 08:55:50
1 Month Later and The Data is in: The Google Pigeon Update Has Hit…and it hit HARD